Press Release:  

October 1, 2014.
Nick Valentino
nick@georgiagolfandtravel.com
This past Monday evening, Georgia Golf & Travel Founder Doug Hollandsworth, had a meeting with Georgia's Speaker of the House to continue to discuss how the State and GGT can work together on promoting The Georgia Golf Trail in a bigger way. Founder Doug Hollandsworth stated " it was a pleasure to meet Speaker Ralston and update him on what we are doing at GGT and how he can help promote what we are building here in Georgia for the world to see in a bigger way." Hollandsworth added " The Speaker and I talked about new ways that the State can get behind what we are promoting as a golf and retirement destination. Speaker Ralston threw his total support to GGT and said that he would take this on personally to help get some major things done at the Capital and around Georgia starting now and more in 2015."
Georgia Golf & Travel has been working with House Member Tom Kirby to get additional funding for GGT. Representative Kirby helped get Doug Hollandsworth in front of Gov. Deal two times for meetings, as well as spearheaded The Georgia Golf Trail Day at the Capital earlier this year. Founder Hollandsworth has also met with the Chairman's of both the House and Senate Tourism Committees to tell the story of why we need more promotional help and funding to really get things rolling here in Georgia.
Hollandsworth added " Speaker Ralston who is a golfer by the way, announced he would give The Georgia Golf Trail another day at the Capital during the 2015 Session, but this time, myself and other trail sponsors and members would be able to speak before the House as well. This would be a great day for GGT and really open the eyes to why we need the House Members help." We have just begun here in Georgia, the states around Georgia have had a golf program for years, so we have a lot to do over the coming years, thus we need the help from the State in a big way. We are very excited about the progress we are making in our 18 short months and growing awareness to our great State. Not just thought playing golf, but for companies to come host their meetings, or people looking to move here and see what we have to offer from the mountains to the coast, that is our goal, to promote Georgia through golf."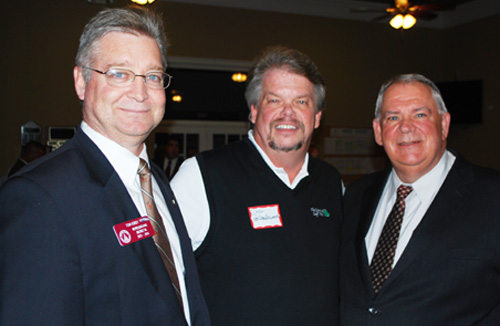 ( Tom Kirby House Member, Doug Hollandsworth Founder of Georgia Golf & Travel, House Speaker David Ralston)
www.georgiagolfandtravel.com • 770-266-0331