The Georgia Golf Trail would like to welcome our newest member, Stone Creek Golf Club in Valdosta. Right off I-75, Stone Creek is a wonderful place to enjoy some great golf while traveling. Click on their website for more info
Also Visit Valdosta for more info about what to do while in the Valdosta area.
The Georgia Golf Trail is Thankful for The Georgia State Park Golf Courses, Georgia's "Hidden Gems"
Discover championship golf at affordable prices and see why Georgia State Park Golf Courses are known as "the sweetest deals in golf." With designs that leverage the spectacular and diverse terrains across the state, Georgia State Park Golf Courses compare favorably to some of the state's best private courses. Like playing a resort course, without all the houses" seems to sum it up for most, no development, no distractions and no excuses. 
And yet, for the level of play, the courses remain relaxed environments that welcome families and first-time golfers. Most offer clinics and private instruction for every age and level. 
Turn your golf day into a full getaway. Stay overnight in our lodges or cottages or nearby hotels. Call the park you would like to book at directly (Monday–Friday, 8 a.m.–4:30 p.m. EST) to book your Georgia State Park Golf Package. Camping packages are also available. Reservations can be made up to 13 months in advance.
Also the golf courses are great places to hold corporate meetings. Many of the courses have meeting rooms, take a break and play golf at one of the eight golf courses across the state, then spend the night in one of the cabins/cottages, you can't ask for anything better for a great meeting right here in Georgia.
Arrowhead Pointe
Georgia State Parks Gift Cards
Gift cards are perfect Christmas gift for golfers, hikers, anglers, campers, history buffs or anyone who enjoys being outdoors. The credit-card sized card may be bought in any denomination starting at $5 and can be re-loaded for continued use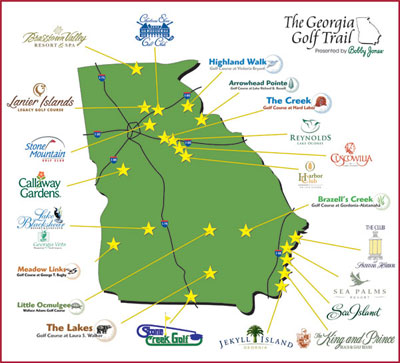 The Georgia Golf Trail brings it all together with a collaboration of the states' top resorts and golf clubs, presenting the Peach State as a premier golf haven.From the mountains to the plains and on to the beautiful Georgia coast, the Peach State has much to offer the golfer and traveler.

Stone Creek Golf Club
Whether it is for business or a weekend getaway, any tourist will find the sights and sounds of Georgia to be a top travel destination. With historical sites stretching back to the founding of Georgia in 1733, to a unique collection of cultural, natural and recreational resources, Georgia, one of the thirteen original colonies, offers something to the visitor.

Sea Palms

Our beautiful state is home to several major golf tournaments each year. In April, Georgia proudly hosts the greatest golf event in the world. The Masters Tournament held in Augusta, dates back to 1934 and was originated by native Georgian Bobby Jones. Georgia is also home to two other PGA TOUR events, om addition, Georgia's resorts are always in the top ranked courses in the country each year.
Make sure you sign up for our monthly newsletter, go to
http://www.georgiagolfandtravel.com,/
 click on link in top right hand corner of page. Chances to win prizes each month.
For 2017 Golf Packages here in Georgia call or email us.