Welcome to Georgia, Home of The Masters, Bobby Jones and over 400 golf courses from Ringgold to Valdosta.

The Georgia Golf Trail offers you many choices to choose from where you can go and play and spend the week or a weekend. From Sea Island, home to the PGA TOUR stop in November, to Arrowhead Pointe, a "Hidden Gem" in northeast Georgia. Prices ranges so call and find out what fits your budget.
If you are bringing the family there is so much for all of you to do here in Georgia besides playing golf. For the family, you can do a variety of things. Head to Atlanta and go see the Coca Cola Museum or go to Savannah and see our first city and all it's history. You still have plenty of time to book your summer golf packages here to Georgia. 


The PGA TOUR calls Georgia home 5 times during the year so if they love us, you will as well. Bring your company groups or just come for that romantic getaway, plan on doing much more than just golf. Come and see Georgia and all it's glory from the mountains to the sea.

Our Georgia Golf Trail Member of Month is:
Brasstown Valley Resort & Spa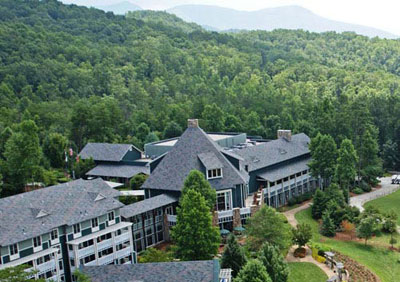 Nestled among the North Georgia Mountains, Brasstown Valley Resort & Spa quietly redefines the typical mountain getaway. Just a short two-hours from Atlanta & Chattanooga, there is something for everyone at Brasstown Valley Resort & Spa.


The Brasstown Valley Golf Course has been ranked by both Golf Digest and Leading Golf Courses of America as one of the top courses to play in Georgia. Designed by Denis Griffiths, the golf course winds through wildlife preserves, ponds and streams framed in by the mountains. With five sets of tees, all skill levels will be able to enjoy a layout that is maintained to standards you'd expect. It's great for the corporate outing, couple's getaway or the guy's weekend
Brasstown Valley

6321 Highway 76
Young Harris, Georgia 30582
tel (706) 379-4600
www.brasstownvalley.com
800-201-3205


Georgia Golf & Travel will be glad to work with you on your future golf packages. If you book a golf package with us, we will send you a Bobby Jones Golf Shirt and a Dozen Bridgestone Golf Balls as our way of saying thank you. Just visit our website or call us Toll Free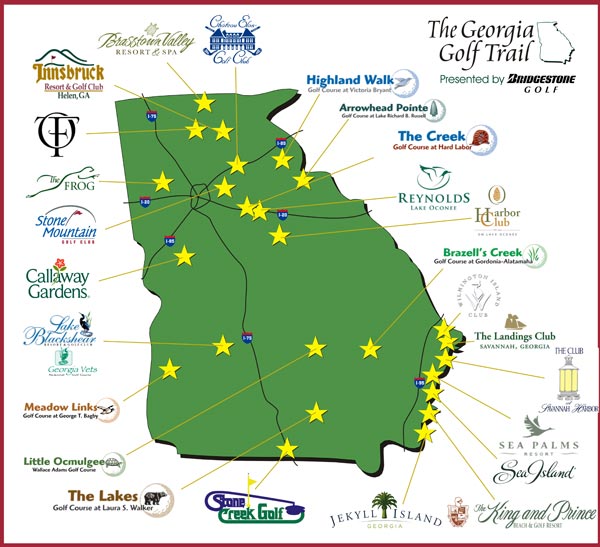 The Georgia Golf Trail brings it all together with a collaboration of the states' top resorts and golf clubs, presenting the Peach State as a premier golf haven.
From the mountains to the plains and on to the beautiful Georgia coast, the Peach State has much to offer the golfer and traveler.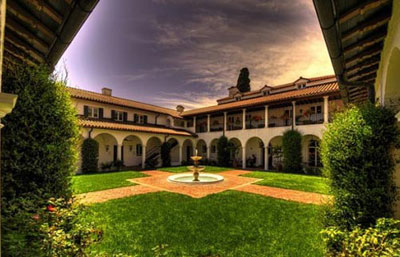 Jekyll Island Club Hotel
Whether it is for business or a weekend getaway, any tourist will find the sights and sounds of Georgia to be a top travel destination. With historical sites stretching back to the founding of Georgia in 1733, to a unique collection of cultural, natural and recreational resources, Georgia, one of the thirteen original colonies, offers something to the visitor.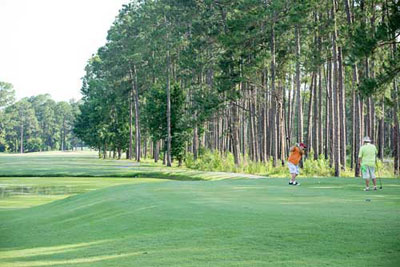 Little Ocmulgee

Our beautiful state is home to several major golf tournaments each year. In April, Georgia proudly hosts the greatest golf event in the world. The Masters Tournament held in Augusta, dates back to 1934 and was originated by native Georgian Bobby Jones. Georgia is also home to four other PGA TOUR events, in addition, Georgia's resorts are always in the top ranked courses in the country each year.
Come Visit Savannah
here is a short video of Georgia's
Top Destination for Tourists.
www.visitsavannah.com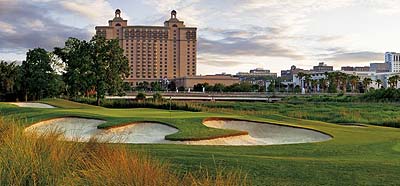 Make sure you sign up for our monthly newsletter, go to
http://www.georgiagolfandtravel.com,/
 click on link in top right hand corner of page. Chances to win prizes each month.
For 2017 Golf Packages here in Georgia call or email us.
Click on links below for more resort information.