Georgia Golf Trail Celebrating our 5th Year
Check out the deals on each one of the Members pages during the year and sign up for the newsletter to get great gifts and prizes during 2017.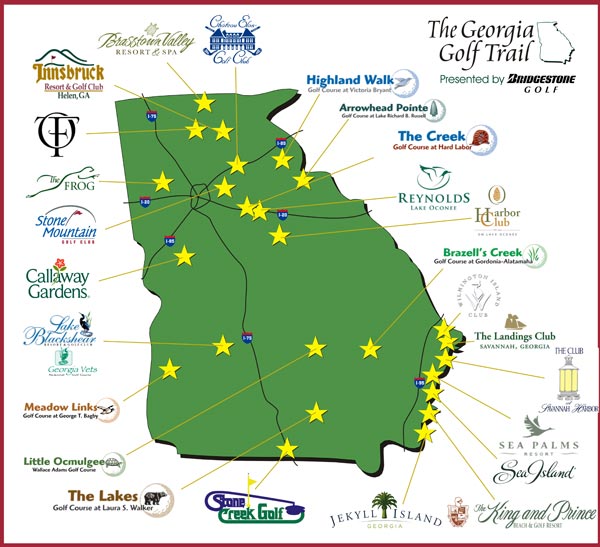 The Georgia Golf Trail brings it all together with a collaboration of the states' top resorts and golf clubs, presenting the Peach State as a premier golf haven.From the mountains to the plains and on to the beautiful Georgia coast, the Peach State has much to offer the golfer and traveler.

Innsbruck GC
Whether it is for business or a weekend getaway, any tourist will find the sights and sounds of Georgia to be a top travel destination. With historical sites stretching back to the founding of Georgia in 1733, to a unique collection of cultural, natural and recreational resources, Georgia, one of the thirteen original colonies, offers something to the visitor.

The Westin Jekyll Island Hotel

Our beautiful state is home to several major golf tournaments each year. In April, Georgia proudly hosts the greatest golf event in the world. The Masters Tournament held in Augusta, dates back to 1934 and was originated by native Georgian Bobby Jones. Georgia is also home to two other PGA TOUR events, om addition, Georgia's resorts are always in the top ranked courses in the country each year.
Make sure you sign up for our monthly newsletter, go to
http://www.georgiagolfandtravel.com,/
 click on link in top right hand corner of page. Chances to win prizes each month.
For 2017 Golf Packages here in Georgia call or email us.
Click on links below for more resort information.