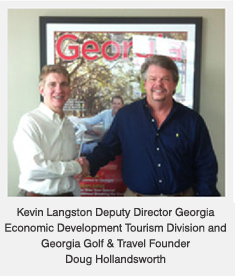 The Georgia Department of Economic Development Tourism Division and Georgia Golf & Travel have formed a partnership to market Georgia as a leading golf destination.
The mission of the Georgia Golf & Travel programs is to increase travel and visitor expenditures throughout all of Georgia and market the state as one of the leading golf destinations in the world. Georgia Golf & Travel in partnership with the Georgia Department of Economic Development or GDEcD's will achieve this goal by increasing awareness and generating inquiries about Georgia's destination travel opportunities and encouraging the expansion of Georgia's golf travel capability.
Georgia Golf & Travel marketing programs will focus on travel to and within Georgia. Growth in the program will be a result of expanding the aware­ness of Georgia as a golf destination, thereby increasing the demand for accommodations/food service, plus promoting other activities within the state. The enhanced awareness of and demand for golf/hotel/food/activities revenue can be measured by higher occupancy rates and higher hotel room revenues, thus stimulating additional capital investments in hospitality here in Georgia. Also awareness of the new golf travel programs will be to reach new businesses and travelers each year who would continue to add growth to Georgia's economy.